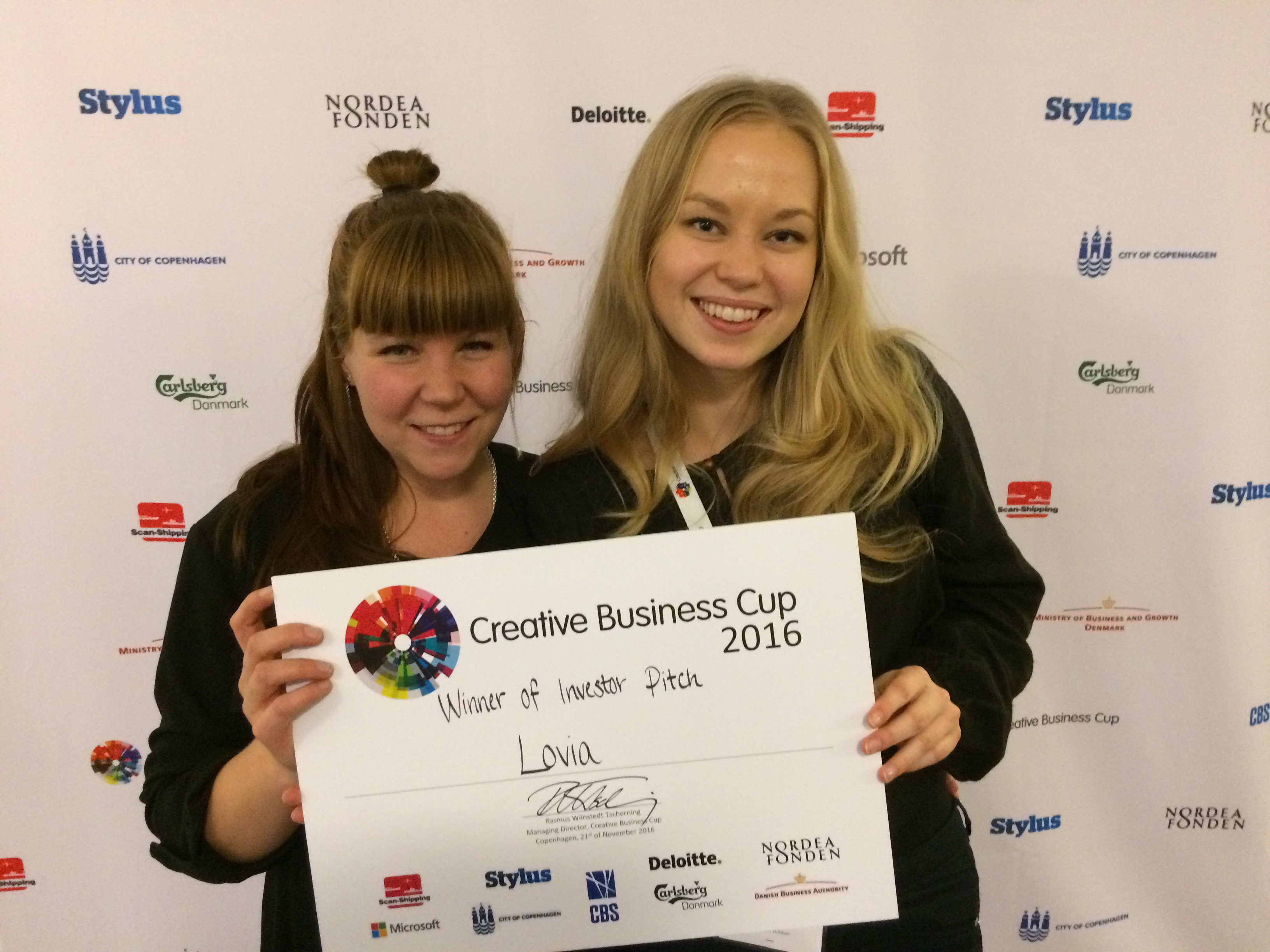 Lovia awarded at the Creative Business Cup as the most investable startup
Lovia, a Finnish company that produces ethically sustainable design accessories, was awarded at the Investor Pitch event that was part of the Creative Business Cup held in Copenhagen. Lovia, the new name in luxury fashion, makes accessories of e.g. elk leather, fish skin and recycled materials.
Contestants from around 60 countries took part in the Creative Business Cup 2016. Aside from the main competition, a number of closed competitions were held, one of which was the high-level Investor Pitch juried by business investors, where Lovia excelled over, for example, Green City Solutions from Germany, winner of the main Cup.
"Winning the title means that we can invest more resources into and reach our goals in sales. We want to make Lovia the world's best known fashion brand to combine ethical commitment – traceability, sustainability and transparency – with luxury", Lovia's designer, Outi Korpilaakso, envisions with confidence.
Korpilaakso accepted the prize together with Anna Lehtola, who is responsible for Lovia's business strategy. Lovia produces accessories based on 100 % traceable materials and manufacturing processes. The bags are designed in Finland and made in Milan, Italy. Lovia also makes jewelry.
"Lovia was able to convincingly highlight in its pitch that luxury products can also be made in an ethically sustainable way. This is the first time for luxury and circular economy to meet in the products of a fashion house. A brilliant business idea! I hope that Lovia products will soon be seen all over the world", member of the jury, professional investor Harri Koponen, concludes.
The two-day Creative Business Cup was held in Copenhagen, Denmark, during 20 – 21 November 2016, for the fifth time. Finland was represented in the main Cup by the winner of the national competition, Belightful Design, whose exquisite butterfly feeder has won several awards throughout the year.
The Finnish representation in CBC is coordinated by Creative Finland, a network sustained by the Finnish Ministry of Economic Affairs and Employment. The Ministry organised the CBC Finnish national competition in July 2016 at the SuomiAreena public debate forum in Pori, Southwestern Finland.